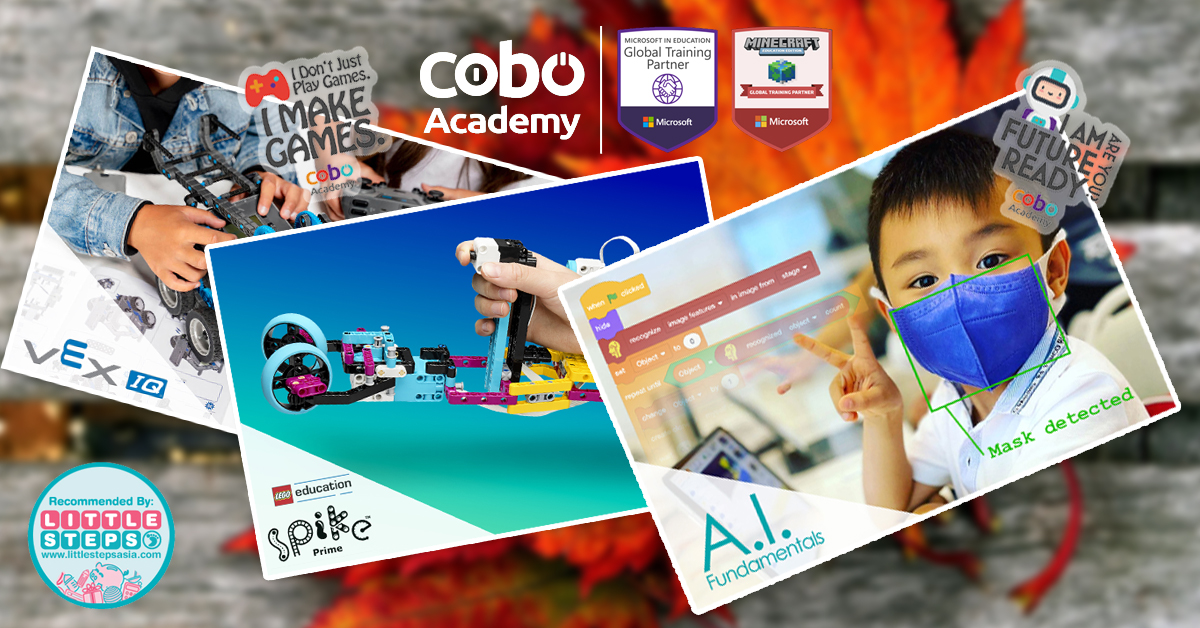 Regular Courses
Sep - Dec, 2023
Are you ready to code like a pro? Join our Regular Courses and discover the amazing world of programming! You will learn how to solve problems, create projects, and work with others in a fun and engaging way. Whether you want to build your own apps, games, or robots, we have the perfect course for you. You can start from Level 1 if you are new to coding, or choose a more advanced level if you already have some experience.
We are proud to be the official Global Training Partners of Microsoft and Minecraft, which means we always keep up with the latest technologies and trends. This term, we have some exciting new courses for you, such as AI with Scratch, Lego Spike Prime and VEX Robotics! Don't miss this opportunity to unleash your creativity and potential with coding. Sign up now and get ready to have a blast!
Autumn Term has 2 half terms (Term Calendar):

Half-term A: Sep 11 - Nov 6 (7 lessons, 10.5 hrs, HK$5,250)
Half-term B: Nov 7 - Dec 23 (7 lessons, 10.5 hrs, HK$5,250)
Enjoy one free lesson on us (HK$750 value) if you sign up for full term!
Weekday Sessions*:

3:15pm - 4:45pm
5:00pm - 6:30pm
*other time slots available upon request
Saturday Sessions:

9:30am - 11:00am
11:15am - 12:45pm
2:00pm - 3:30pm
4:00pm - 5:30pm
Sign up for full term now to enjoy special discounts! Be sure to check out our Virtual Tours to understand the learning objectives of our most popular online courses.
Medium of Instruction: English
"I highly recommend Cobo Academy classes. It's creative, educational and fun."
Levina Li-Cadman
Co-Founder of
"Cobo teachers are enthusiastic, fun and understand each student well. They tailor their teaching style to provide the best experience for every child."
Yana Chung
Co-Chair, Annual Fund at
Special Offers!*
1. Full-term Offer: Sign up for full term (half terms A & B) to receive one free lesson (HK$750 value)!
2. Back-to-school Offer: Sign up and pay before Aug 18 and enjoy HK$300 discount off.
*Yes, offers can be combined! Discounts cannot be cashed.
Fun Tidbit
Our program names (Intern, Junior, Senior, Principal and Fellow) are inspired by the engineer ranks used by some of the world's most elite technology companies such as Google and Microsoft.