Level 1: VEX IQ
Regular Principal Robotics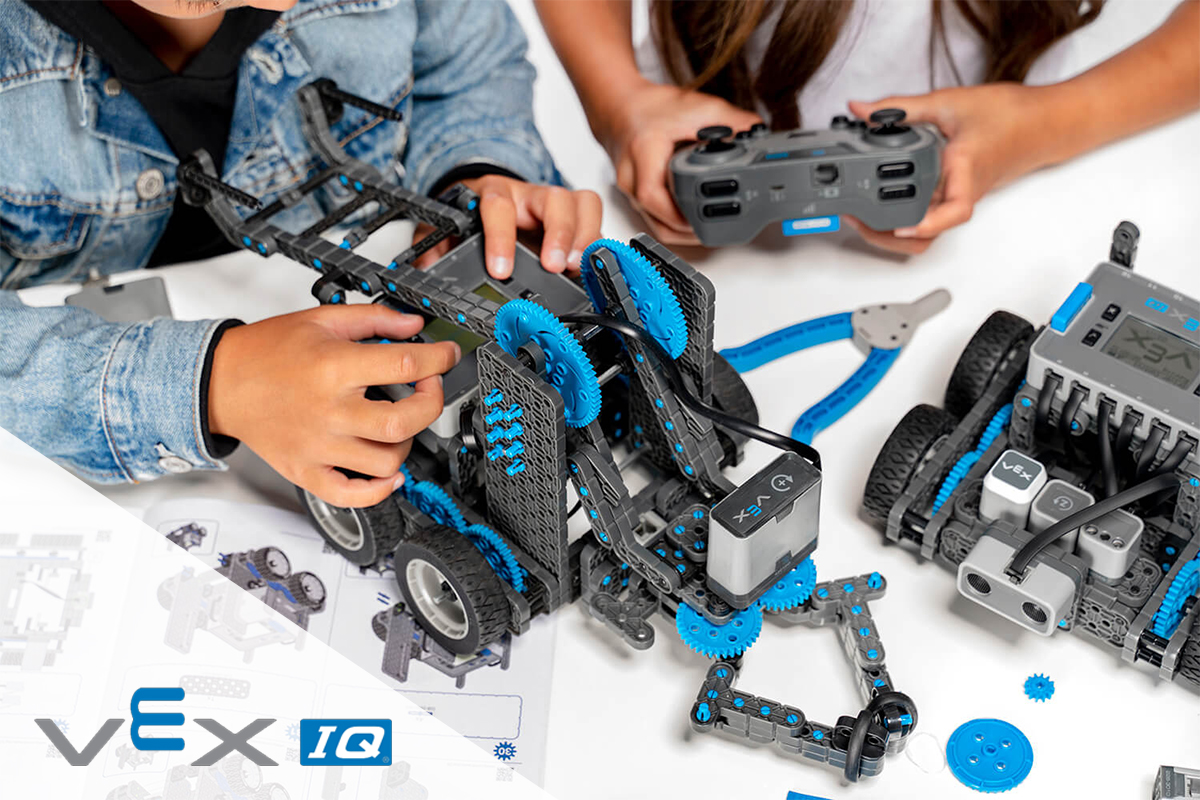 Love robotics? Explore everything from simple mechanics to building powerful robots using the VEX IQ kit. Designed for all robotics and coding fans aged 9 and up, VEX IQ engages creativity and spatial awareness, while exploring concepts of engineering design, mechanics and circuitry. Students are able to program the advanced sensors and motors using Blocks, C++ and Python - making it a versatile platform when learning to fail, iterate and solve real-world problems!
With our VEX certified instructors, we'll provide students with the hardware and programming expertise, all you need to bring is your laptop/iPad, creativity and the ability to try, try, try again!
Key takeaways:
- Understand engineering design process for the application of sensors and motors, building functional robots that solve real-world problems
- Get familiar with the integration of mechanics and programming with 15+ robot builds, coded with Blocks, C++ or Python
- Apply math concepts to explore how mechanical parts like gears & sprockets (in combination with beams, wheels and shafts) are used for precision
What to Bring:
- Laptop (PC/Mac/Chromebook or iPad) & Charger
- Install VEXCode IQ: https://www.vexrobotics.com/vexcode/install/iq
Course Structure
Spring term has 2 half terms:
- Half-term A: Mar 13 - May 6 (7 lessons, 10.5 hrs, HK$5,250 and up)
- Half-term B: May 9 - Jun 24 (7 lessons, 10.5 hrs, HK$5,250 and up)

Each weekly lesson is 1.5 hours is packed with activities, theories, practical exercises and FUN!
Regular course calendar can be found here.
Medium of Instruction: English
FAQ
How big is class size?
Typically between 4-8 students.
Do I receive feedback from instructor?
Feedback from instructor is available upon request.
What if I can't find something that fits my child's schedule?
Feel free to contact us at 3905 1111 or hi@coboacademy.com to schedule a private group or individual session.
What are the payment options?
Payments can be made by online/ATM bank transfer, by FPS at pay@coboacademy.com or by cash/cheque at our Wan Chai Campus. Details can be found in our enrollment acknowledgement email.
What are the cancellation and withdrawal policies?
Please refer to our Terms & Privacy for details.
Schedule
23SP\PRI1\VEX1\MON\C1
Period:
13-03-2023 -
15-05-2023
Days:
MON
Time:
17:00 - 18:30
Location:
WAN CHAI
Lessons:
7
Hours:
10.5 hrs
Fee:
HK$ 5,250
Spring term has 2 half terms:

- Half-term A: Mar 13 - May 6
(7 lessons, HK$5,250 and up)

- Half-term B: May 9 - Jun 24
(7 lessons, HK$5,250 and up)

Weekday Sessions:
> 3:30pm - 5:00pm
> 5:00pm - 6:30pm

Saturday Sessions:
> 9:30am - 11:00am
> 11:15am - 12:45pm
> 2:00pm - 3:30pm
> 4:00pm - 5:30pm

See Term Calendar for lesson dates.