Level 1: AI-Powered Mobile Apps Basic (iOS/Android)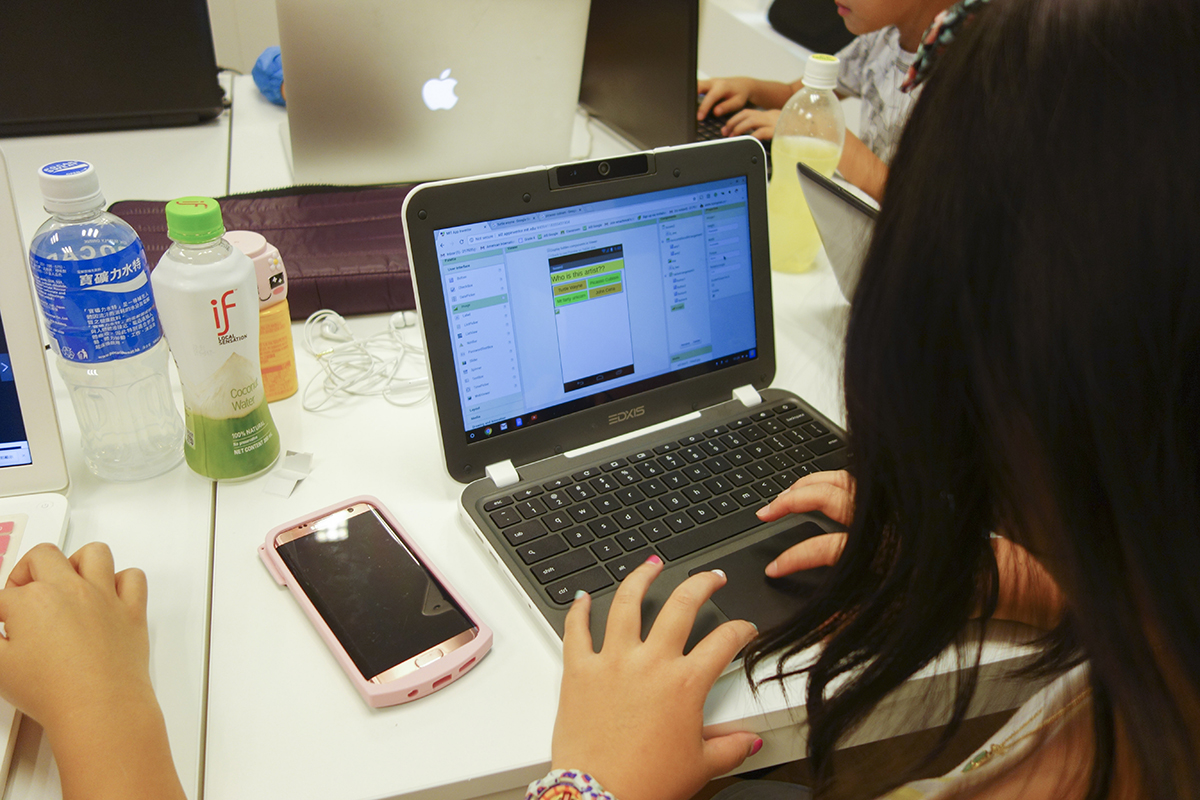 With the influx of apps and the rise of ChatGPT & OpenAI, our lives have become easier today. Explore the importance of smartphones and build AI-driven apps as part of this updated course that can run across iOS and Android using Thunkable and unfold your child's vast imagination, providing them with the chance to use both their design & logical thinking skills. Students will get a chance to hone their spatial awareness to plan and code really cool, intelligent apps that make use of different sensors & inputs on our phones.
From designing the "look" to programming, testing and optimizing features for your app, we'll explore different ideas for students to break down. What you can do with Thunkable is only limited by your imagination!
Difficulty: Level 1 - Beginner
Key Takeaways:
- Learn to personalize your apps by creating unique designs for each app you create
- Explore how AI works and its personalised application in app development through different games/projects
- Develop your design-thinking skills while building upon fundamental coding concepts
What to bring:
- Laptop (PC/Mac/Chromebook) + charger
- (Optional) iOS/Android device for testing
Course Structure
Spring term has 2 half terms:
- Half-term A: Mar 13 - May 6 (7 lessons, 10.5 hrs, HK$5,250 and up)
- Half-term B: May 9 - Jun 24 (7 lessons, 10.5 hrs, HK$5,250 and up)

Each weekly lesson is 1.5 hours is packed with activities, theories, practical exercises and FUN!
Regular course calendar can be found here.
Medium of Instruction: English
FAQ
How big is class size?
Typically between 4-8 students.
Do I receive feedback from instructor?
Feedback from instructor is available upon request.
What if I can't find something that fits my child's schedule?
Feel free to contact us at 3905 1111 or hi@coboacademy.com to schedule a private group or individual session.
What are the payment options?
Payments can be made by online/ATM bank transfer, by FPS at pay@coboacademy.com or by cash/cheque at our Wan Chai Campus. Details can be found in our enrollment acknowledgement email.
What are the cancellation and withdrawal policies?
Please refer to our Terms & Privacy for details.
Schedule
23SP\SEN1\APP10\SAT\C1
Period:
11-03-2023 -
20-05-2023
Days:
SAT
Time:
16:30 - 18:00
Location:
WAN CHAI
Lessons:
7
Hours:
10.5 hrs
Fee:
HK$ 5,250
Spring term has 2 half terms:

- Half-term A: Mar 13 - May 6
(7 lessons, HK$5,250 and up)

- Half-term B: May 9 - Jun 24
(7 lessons, HK$5,250 and up)

Weekday Sessions:
> 3:30pm - 5:00pm
> 5:00pm - 6:30pm

Saturday Sessions:
> 9:30am - 11:00am
> 11:15am - 12:45pm
> 2:00pm - 3:30pm
> 4:00pm - 5:30pm

See Term Calendar for lesson dates.