New! Engineering Design & Mechanics with VEX IQ
HolidayCamps (Ages 15-16: Fellow)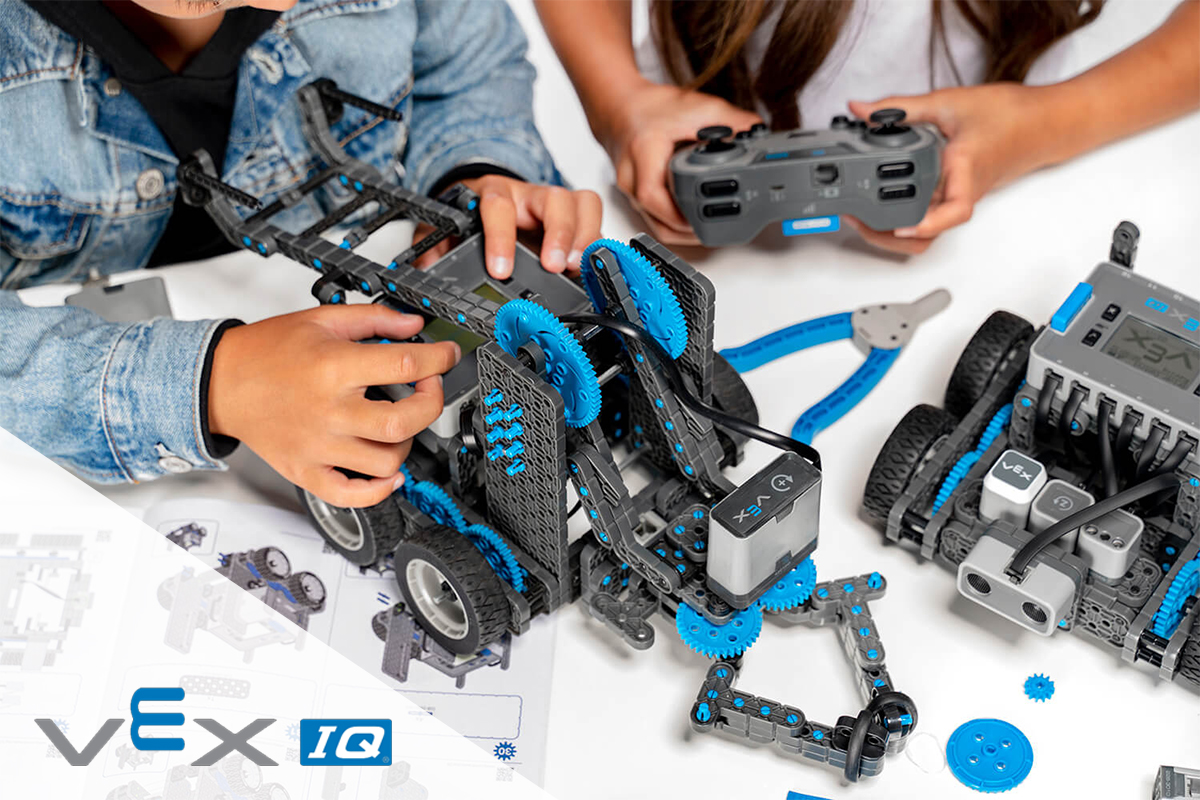 Love robotics? Explore everything from simple mechanics to building powerful robots using the VEX IQ kit. Designed for all robotics and coding fans aged 9 and up, VEX IQ engages creativity and spatial awareness, while exploring concepts of engineering design, mechanics and circuitry. Students are able to program the advanced sensors and motors using Blocks, C++ and Python - making it a versatile platform when learning to fail, iterate and solve real-world problems!
With our VEX certified instructors, we'll provide students with the hardware and programming expertise, all you need to bring is your laptop/iPad, creativity and the ability to try, try, try again!
Key takeaways:
- Understand engineering design process for the application of sensors and motors, building functional robots that solve real-world problems
- Get familiar with the integration of mechanics and programming with 15+ robot builds, coded with Blocks, C++ or Python
- Apply math concepts to explore how mechanical parts like gears & sprockets (in combination with beams, wheels and shafts) are used for precision
What to Bring:
- Laptop (PC/Mac/Chromebook or iPad) & Charger
- Install VEXCode IQ: https://www.vexrobotics.com/vexcode/install/iq
Camp Structure
Holiday Camps: 3-5 daily lessons per camp.
Each daily lesson is 2 hours and is filled with activities, theories, practical exercises and FUN!
Medium of Instruction: English
FAQ:
How big is class size?
Typically between 4-8 students.
What are the payment options?
Payments can be made by online/ATM bank transfer, by FPS at pay@coboacademy.com or by cash/cheque at our Wan Chai Campus. Details can be found in our enrollment acknowledgement email.
What's next after Holiday Camps?
Our Day Camps are designed to connect with our Regular Courses, allowing your child to carry on their learning on the same topic or get into something new and exciting.
Schedule
Wk 1: Apr 3, 4, 6
3-day camps from HKD2,400
Wk 2: Apr 11 - 14
4-day camps from HKD3,200

> Morning: 10:00am - 12:00pm
> Mid-day: 2:00pm - 4:00pm

Don't find anything that fits your schedule? Fill out our booking form below.