Introduction to Coding!
HolidayCamps (Ages 4-5: Intern)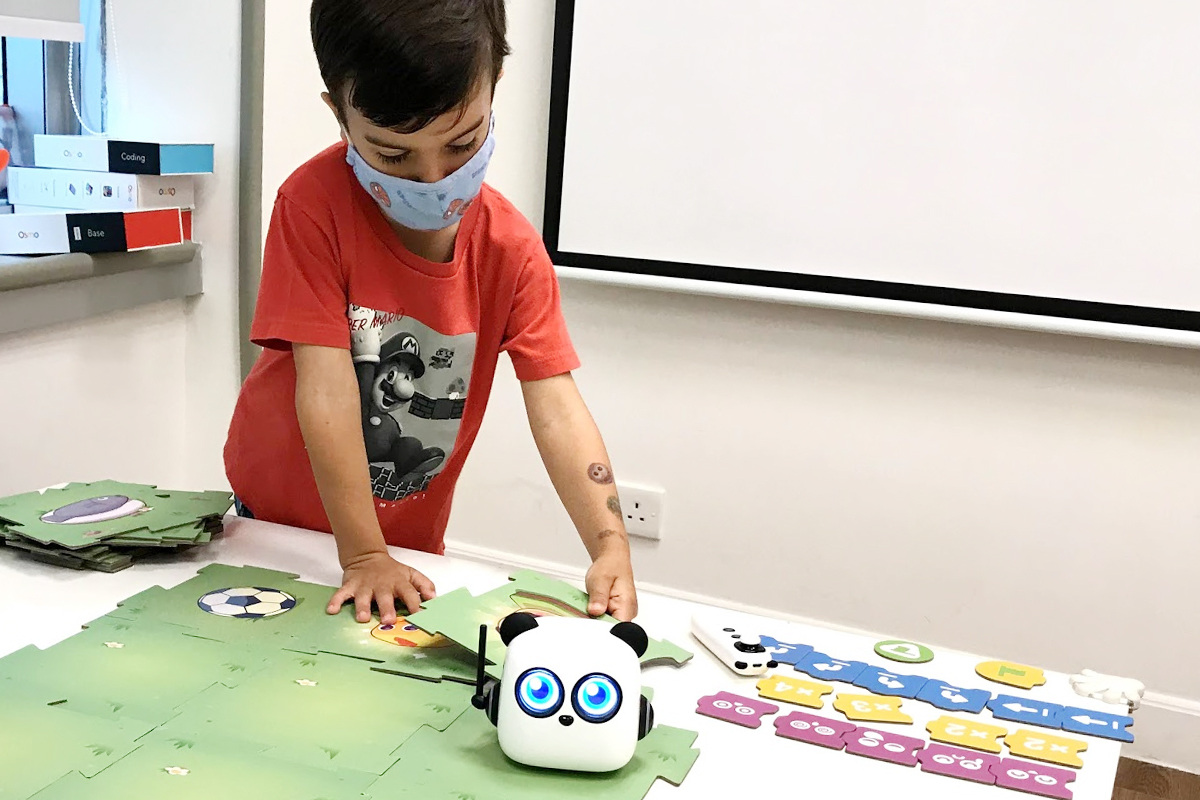 Begin your child's coding journey with a mix of screenless and screen-based activities, learning with various hands-on and interactive actiivities through multiple Montessori-approved educational robotics sets, combined with sequential & directional programming through multiple programming apps on their iPads!
Introduction to Coding involves engaging stories combined with programming music, expressions, directions and movements to create a fun and immersive learning environment. Use colourful physical blocks on the special programming board in order to move robots while exploring the different story maps. Complete coding challenges while covering topics such as shapes, animals, and planets.
Experimenting and seeing how their coding controls real-life robots and on-screen characters in real-time can help demystify technology, while developing their spatial ability through the use of directions and learning fundamental programming concepts such as order and sequencing.
Key Takeaways:

1. Understand that coding is a way to give instructions and how it can be applied in the real-world
2. Use colours, patterns, and physical toys to learn programming basics while enhancing fine motor coordination
3. Familiarise with directions, orientation and movement to develop spatial ability
4. Learn about events, movements and sequencing and pave a path towards programming in ScratchJr
What to bring:
Just a curious and creative mindset!
Camp Structure
Holiday Camps: 3-5 daily lessons per camp.
Each daily lesson is 2 hours and is filled with activities, theories, practical exercises and FUN!
Medium of Instruction: English
FAQ:
How big is class size?
Typically between 4-8 students.
What are the payment options?
Payments can be made by online/ATM bank transfer, by FPS at pay@coboacademy.com or by cash/cheque at our Wan Chai Campus. Details can be found in our enrollment acknowledgement email.
What's next after Holiday Camps?
Our Day Camps are designed to connect with our Regular Courses, allowing your child to carry on their learning on the same topic or get into something new and exciting.
Schedule
22XM\INT\CUB\W1\C1
Period:
19-12-2022 -
23-12-2022
Days:
MON, TUE, WED, THU, FRI
Time:
10:00 - 12:00
Location:
WAN CHAI
Lessons:
5
Hours:
10 hrs
Fee:
HK$ 4,000
22XM\INT\CUB\W2\C1
Period:
28-12-2022 -
30-12-2022
Days:
WED, THU, FRI
Time:
10:00 - 12:00
Location:
WAN CHAI
Lessons:
3
Hours:
6 hrs
Fee:
HK$ 2,400
22XM\INT\CUB\W2\PC1
Period:
28-12-2022 -
30-12-2022
Days:
WED, THU, FRI
Time:
14:00 - 16:00
Location:
HKPC Building
Lessons:
3
Hours:
6 hrs
Fee:
HK$ 2,400
Wk 1: Dec 19 - 23
5-day camps from HKD4,000
Wk 2: Dec 28 - 30
3-day camps from HKD2,400
Wk 3: Jan 3 - 6
4-day camps from HKD3,200

> Morning: 10:00am - 12:00pm
> Mid-day: 2:00pm - 4:00pm

Don't find anything that fits your schedule? Fill out our booking form below.