Level 1: Codey Rocky
Regular Principal Robotics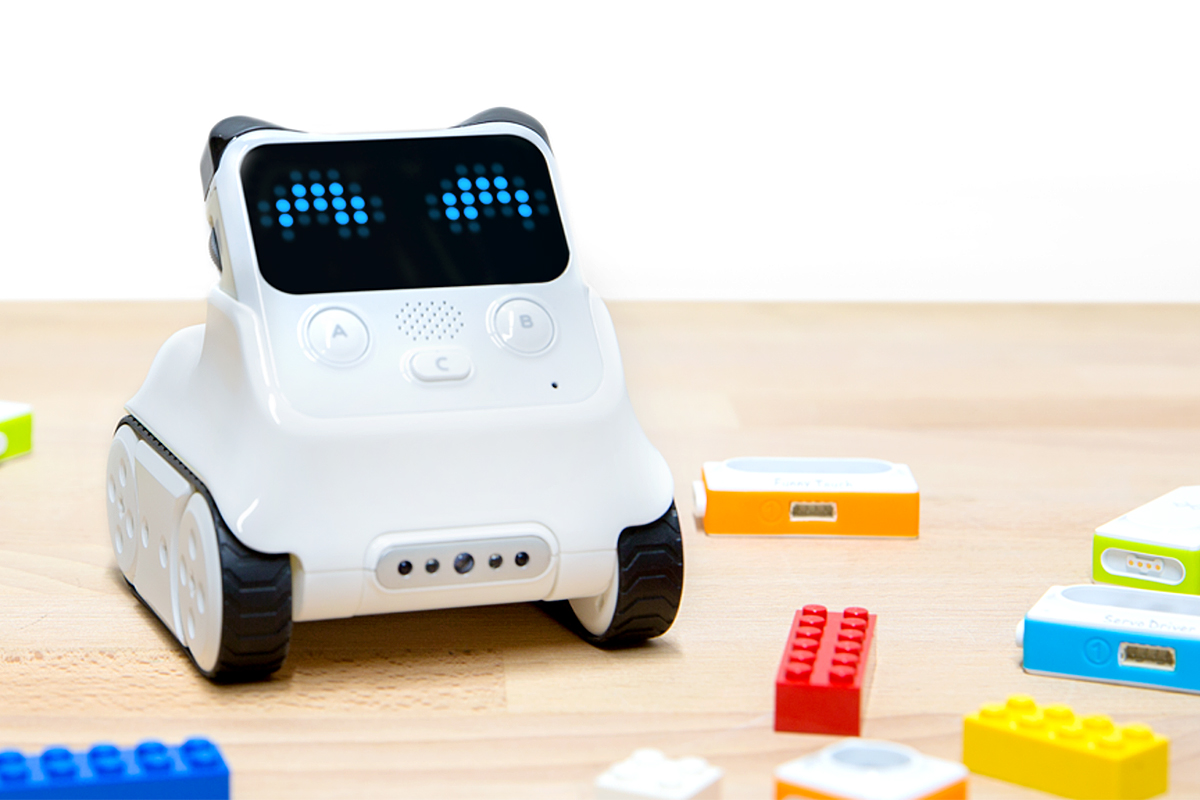 Meet Codey Rocky, your child's new coding and robot companion designed for STEM education! Join our all-new Codey Rocky holiday camp to give your child the opportunity to take their first steps into the world of code.
Suitable for children ages 6 and up, Codey Rocky combines easy-to-use robotics hardware with graphical programming and even has built-in WiFi that lets you create simple data-driven projects. For example, Codey Rocky can grab real-time weather data from all over the world. The robot also has IR and other sensors to collect additional data.
From voice recognition to infrared TV controls, Codey Rocky gives your child their first taste of Artificial Intelligence and Internet of Things (IoT).
Key Takeaways:

1. Understand the connection between hardware components (robotics and sensors) and software.
2. Logic is the foundation of coding. Learn how to go from idea to working program by writing code that makes sense in practice.
3. Get kids to analyse different problems and look at things in different perspectives. We'll go through basic concepts of cloud, IoT and machine learning.
4. Debugging: understanding how to get to the bottom of a problem and how to fix it.
What to bring:
1. Laptop (PC or Mac) & Charger
2. Tuition fee includes Codey Rocky (Retail price: HK$998)
Course Structure
Autumn term has 2 half terms:
- Half term A: Sep - Oct (7 lessons, 10.5 hrs, HK$3,990 and up)
- Half term B: Oct - Dec (7 lessons, 10.5 hrs, HK$3,990 and up)

Each weekly lesson is 1.5 hours is packed with activities, theories, practical exercises and FUN!
Regular course calendar can be found here.
Medium of Instruction: English
FAQ
How big is class size?
Typically between 4-8 students.
Do I receive feedback from instructor?
Feedback from instructor is available upon request.
What if I can't find something that fits my child's schedule?
Feel free to contact us at 3905 1111 or hi@coboacademy.com to schedule a private group or individual session.
What are the payment options?
Payments can be made by online/ATM bank transfer, by FPS at pay@coboacademy.com or by cash/cheque at our Wan Chai Campus. Details can be found in our enrollment acknowledgement email.
What are the cancellation and withdrawal policies?
Please refer to our Terms & Privacy for details.
Special Offers!*
1. Back-to-school Offer: Sign up before Sep 30, 2020 to receive a HK$300 discount off your total payment.
2. Full-term Offer: Sign up for full-term (half terms A & B) to receive an additional HK$300 discount off your total payment.
3. Buddy Offer: Sign up together with a buddy and you will each receive a HK$200 discount off your total payment. The more you refer to us, the more you save!
*Yes, offers 1, 2 & 3 can be combined! Discounts cannot be cashed.
Schedule
Autumn term has 2 half terms:

- Half term A: Sep - Oct
(7 lessons, HK$3,990 and up)

- Half term B: Oct - Dec
(7 lessons, HK$3,990 and up)

Sessions:
> 9:30am - 11:00am
> 2:00pm - 3:30pm
> 3:30pm - 5:00pm
> 5:00pm - 6:30pm

See Term Calendar for lesson dates.