Experience AI & Robotics with mBot2
HolidayCamps (Ages 12-14: Principal)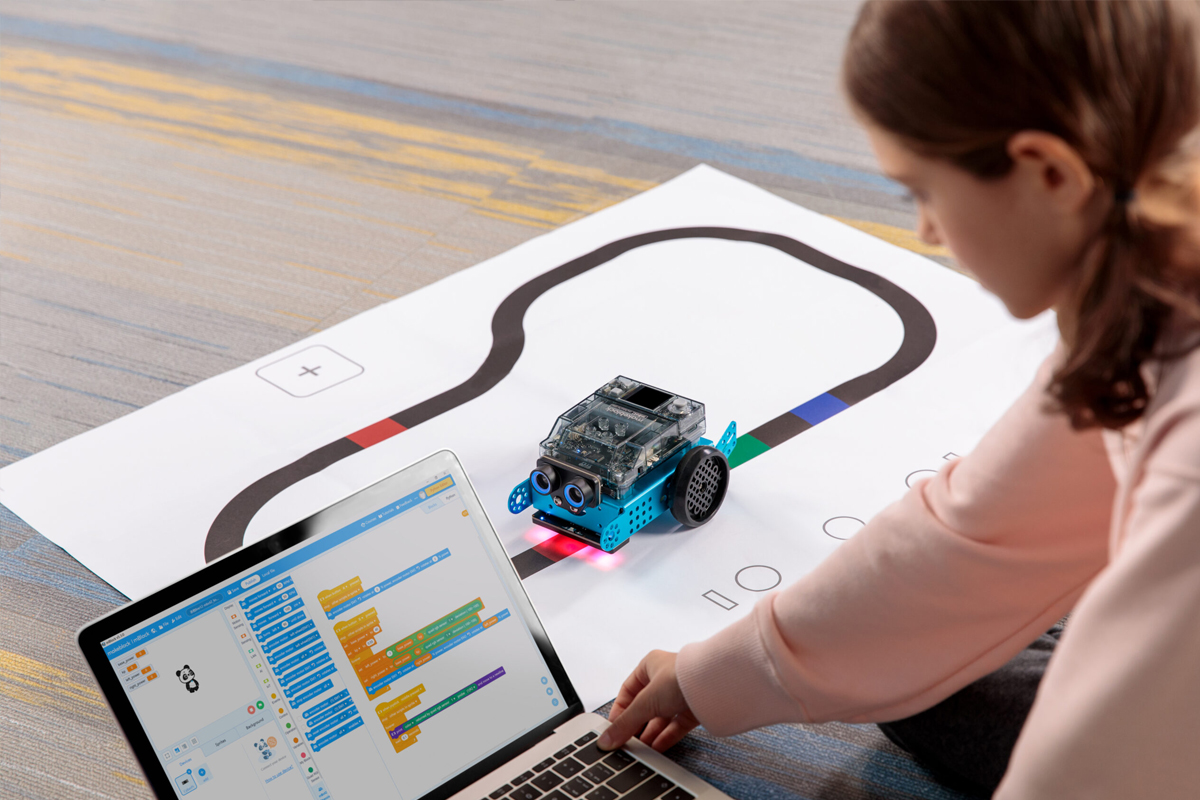 Meet the new mBot2 from MakeBlock Education! With its new microcontroller and advanced built-in sensors, the second generation mBot2 lets students carry out interactive and smart activities through the CyberPi - the key to its improved performance. Enhanced with network capabilities through its WiFi module and the ability to share information through the cloud, connecting multiple mBot2s together to create a local network of robots that communicate, share data and perform challenges together becomes a super easy (and fun) activity to do!
That's not just it though! Built with a set of revamped next generation of smart sensors and variety of new mBlock extensions, students can now explore Artificial Intelligence (AI), data science and Internet of things (IoT) learning through Scratch-based blocks or Python-based text programming straight from the mBlock app, as they give voice commands to their robot, create a pocket translator, learn game development on CyberPi and much more!
Key Takeaways:
1. Explore AI, data science and IoT learning with block programming, paving the way for text-based programming in Python
2. Do more with more advanced built-in sensors, the Wifi and BLE module to communicate with other mBots & connect to the internet
3. Extend the mBots capability with the CyberPi through its 5-way joystick, microphone for voice commands and buttons for inputs
What to bring:

- iPad + charger
AND/OR
- Laptop (PC/Mac) + charger
Material fee:
mBot2 $1,100
Camp Structure
Holiday Camps: 3-5 daily lessons per camp.
Each daily lesson is 2 hours and is filled with activities, theories, practical exercises and FUN!
Medium of Instruction: English
FAQ:
How big is class size?
Typically between 4-8 students.
What are the payment options?
Payments can be made by online/ATM bank transfer, by FPS at pay@coboacademy.com or by cash/cheque at our Wan Chai Campus. Details can be found in our enrollment acknowledgement email.
What's next after Holiday Camps?
Our Day Camps are designed to connect with our Regular Courses, allowing your child to carry on their learning on the same topic or get into something new and exciting.
Schedule
Wk 1: Dec 19 - 23
5-day camps from HKD4,000
Wk 2: Dec 28 - 30
3-day camps from HKD2,400
Wk 3: Jan 3 - 6
4-day camps from HKD3,200

> Morning: 10:00am - 12:00pm
> Mid-day: 2:00pm - 4:00pm

Don't find anything that fits your schedule? Fill out our booking form below.