Trial Class for Ages 4-5
Trials (Ages 4-5: Intern)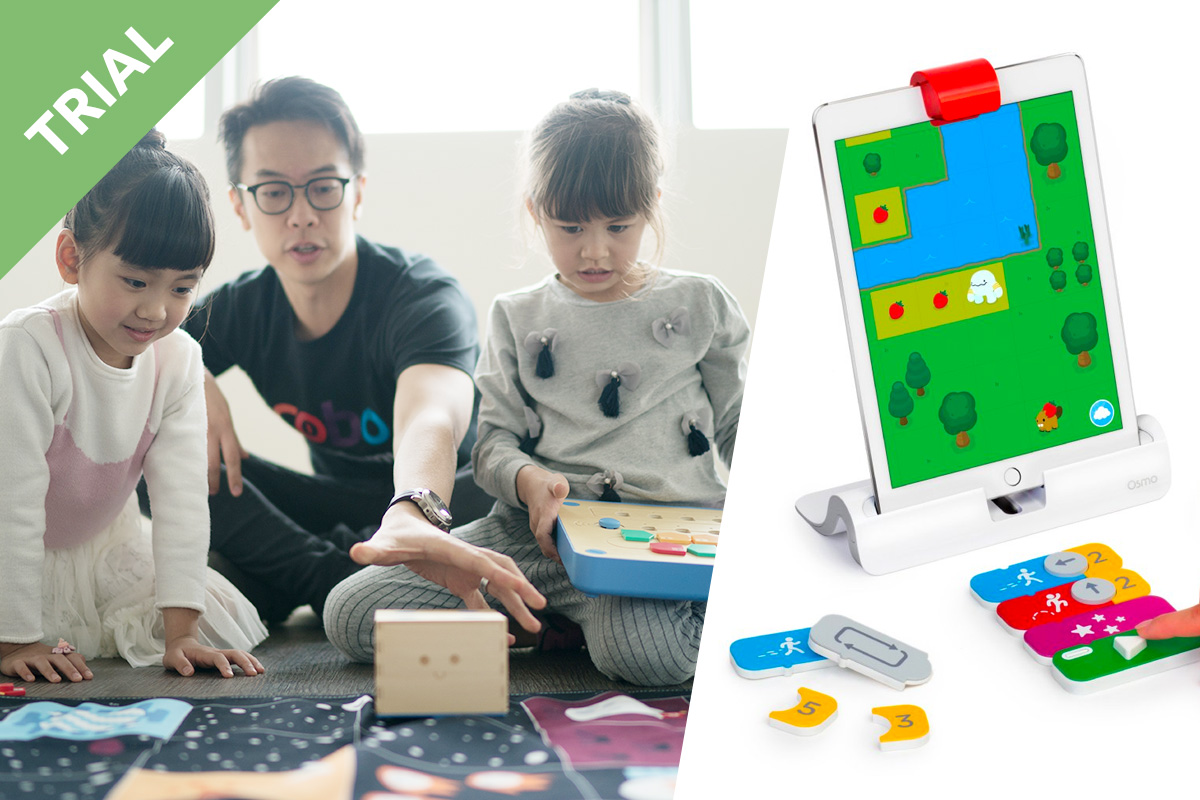 Preschoolers have little hands and big minds! Begin your preschooler's STEM learning journey by developing their interest in technology and concepts of programming. Check out this trial class to get your child pumped about technology! We'll be using Montessori-approved Cubetto to programmatically paint solutions to puzzles and understand science/history, all without using any screens! In addition to Cubetto, we'll make use of Osmo to get your kid started in algorithm design! You can expect kids to get a taste of visual programming while having tons of fun!
What to bring: Just a curious and creative mind!
Medium of Instruction
Trial Structure:
Trial Class is 1.5 hours long.

Class size is typically 4-8 students.

We will assess your child's ability and share feedback/recommendations upon request.
Special Offers:
1. Full Rebate: You will receive a full rebate of your Trial Class fee upon your first enrollment for a Holiday Camp or Regular Term Course on the same day that the Trial Class is attended.
2. Buddy Offer: Sign up together with a buddy and you will each receive a HK$100 discount off your Trial. The more you refer to us, the more you save!
*Discounts cannot be cashed.
Schedule
| | |
| --- | --- |
| Start Date: | 24-05-2018 |
| End Date: | 24-05-2018 |
| Time: | 09:30 - 11:00 |
| Duration: | 1.5 hrs |
| Fee: | HK$ 280 |
| | |
| --- | --- |
| Start Date: | 26-05-2018 |
| End Date: | 26-05-2018 |
| Time: | 09:30 - 11:00 |
| Duration: | 1.5 hrs |
| Fee: | HK$ 280 |
| | |
| --- | --- |
| Start Date: | 29-05-2018 |
| End Date: | 29-05-2018 |
| Time: | 09:30 - 11:00 |
| Duration: | 1.5 hrs |
| Fee: | HK$ 280 |
| | |
| --- | --- |
| Start Date: | 31-05-2018 |
| End Date: | 31-05-2018 |
| Time: | 09:30 - 11:00 |
| Duration: | 1.5 hrs |
| Fee: | HK$ 280 |
| | |
| --- | --- |
| Start Date: | 06-06-2018 |
| End Date: | 06-06-2018 |
| Time: | 09:30 - 11:00 |
| Duration: | 1.5 hrs |
| Fee: | HK$ 280 |
| | |
| --- | --- |
| Start Date: | 13-06-2018 |
| End Date: | 13-06-2018 |
| Time: | 09:30 - 11:00 |
| Duration: | 1.5 hrs |
| Fee: | HK$ 280 |