Build & Program Your First Intelligent Robot
Summer Camp 2018 (Ages 6-8: Junior)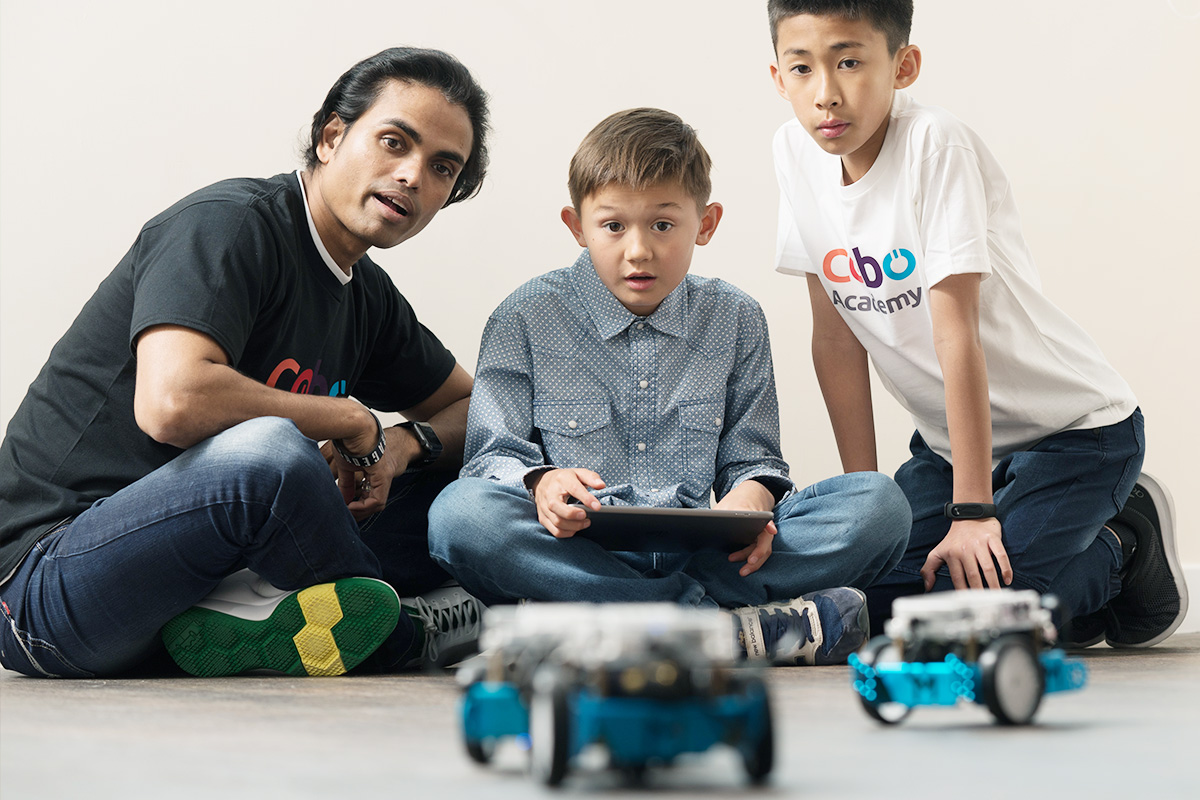 As magical as they seem, robots are designed by us humans. Grab a couple of hardware components and add a little program, and voila! Come to this camp if you want your kids to understand sensors, transistors, and basic software design to create whatever robot they want. Coupling mBot and MIT Scratch, we'll learn why connection between parts matter for robots to work. Debugging will also be a great part of the camp, where we explore why certain things don't work. Making a great robot not only entails understanding things working but also understanding why some designs fail.
Kids can expect to get their hand dirty with hardware and figuring out parts. We'll build drivable robots, and get them to fight!
Key Takeaways:
1. Getting kids to understand what it takes to make a smart robot.
2. Understand the connection between hardware and software.
3. Getting kids comfortable with hardware components and sensors.
4. Debugging: understanding what stuff doesn't work and how to fix them.
What to bring:
1. A new mBot. Or you can buy one from us for an additional HK$748.
2. Laptop (PC or Mac), Power Adapter
Camp Structure
5 daily lessons per Summer Camp. Each daily lesson is 2.5 hours and is filled with activities, theories, practical exercises and FUN!
Medium of Instruction: English
FAQ:
How big is class size?
Typically between 4-8 students.
What are the payment options?
Stay tuned while we enable online payments on our website. Meanwhile, you can pay us by online/ATM bank transfer or by cash/cheque at our Wan Chai Campus. Details will be shared in enrollment acknowledgement email.
What's next after Summer Camps?
Our Day Camps are designed to connect with our Regular Term Programs, allowing your child to carry on their learning on the same topic or get into something new and exciting.
Special Offers!*
1. Early-bird Offer: Sign up before Jul 31, 2018 to receive a HK$200 discount off your total payment.
2. Buddy Offer: Sign up with a buddy and you will each receive a HK$200 discount off your total payment. The more you refer to us, the more you save!
*Yes, offers 1 & 2 can be combined! Discounts cannot be cashed.
Schedule
2018SC\JUN\MBOT180801
Period:
27-08-2018 -
31-08-2018
Days:
MON, TUE, WED, THU, FRI
Time:
09:30 - 12:00
Lessons:
5
Hours:
12.5 hrs
Fee:
HK$ 4,380